M.C.T. Jaguar restoration is a small family run trimming business, run by Mick Turley and his son Chris. Mick started his trimming career at the age of 15 in the trim shop at Jaguar cars in 1965, spent 16 years there then left and started Suffolk and Turley.
Then after many years felt a change was necessary, so in 1994 left to start his own company MCT Jaguar Restorations, immediately going on to win car of the day and champion of champions competition at J.D.C. events, and for the last twelve years have won car of the day every year since.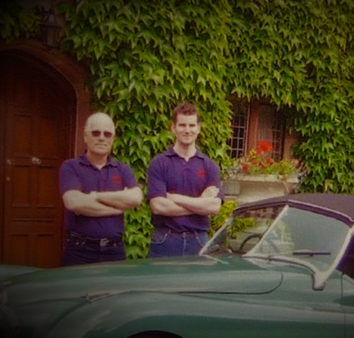 On some occasions having best 120, 140, 150 and car of the day, all on the same day. With many going on to win champion of champion awards. The most recent being in 2008 XK140 O.T.S. And in 2007 XK150 3.4s dhc. Chris joined in 1995 learnt every aspect of trim from his father and now is just as skilled and fussy, with the key word being quality.
We take great pride in trimming cars that are special as in the first E-type OTS and the last V12 OTS for the JDHT. Retrimmed cars include original C-types, XK SS, SS100, mk4, mk5, mk2, 420 G in fact if it is Jaguar we have trimmed it.
Although we are best known for our work on Jaguars we also trim customers other marques such as, Ferrari, 275 4 CAM, 250 SWB, 246GT, Barchetta, Nembo, G.T.O. etc, Rolls Bentley, Cloud 1 2 3, Continental, Shadow, Corniche, Aston martin DB4,5,6, virage, lagonda, DB4 GT Zagato. In fact there is not a trimming job that is beyond us.
Bespoke trim forms a large part our work, also trim kits. Kits are a great way for the enthusiast to take part in the restoration of their car, our kits are made to the same exacting standard and they contain all you need for your car. All parts and panels are trimmed ready to fit.
You can take this a stage further by having a kit, but getting us to do the difficult jobs for you i.e., trim your seats, tunnel etc, anything you feel that is beyond your skills. Also when we supply you a kit we are only at the end of a phone to assist you along the way.
Remember "quality does not just happen, it is built in" and "Quality is remembered long after the price is forgotten".